The best way to vouch for the quality of water that flows in any aquarium is to have the best filter in place. While there are a vast variety of systems in the market, the canister filter has become a favorite for many fish keepers. And for good reason.
Why
Cascade Canister Aquarium Filter

Are A Favorite Among Aquarium Owners

Canister filters are great options for meeting your aquarium filtration needs. Not only do they offer great filtration power, but their space-saving size and shape also make them a viable option for most fish tanks. Not to mention the fact that they are affordable.

If you happen to be in need of a heavy-duty multi-stage external filtration for your freshwater or salt aquarium, the Penn-Plax cascade aquarium canister filter is one of the best aquarium filters you might want to consider to keep your aquarium clean at all times.

In this detailed review, we are going to take a close look at this filter and what it offers, so you can decide if it's a worthy investment for your aquarium.

CURRENTLY ON SALE -36%
Penn-Plax Cascade 1500 Aquarium Canister Filter – Provides Physical, Biological, and Chemical Filtration – 350 Gallons per Hour (GPH)
CASCADE 1500 CANISTER FILTER: Without effort, the Cascade 1500 Canister Filter quietly delivers crystal clear water throughout the tank. This filter cycles water at 350 Gallons per Hour, and is recommended for aquariums up to 200 gallons. It's compatible for both freshwater and saltwater fish tanks, and is also great for turtle habitats!
STATE OF THE ART FEATURES: In addition to the push button primer that allows for a simple and quick prime, this Canister Filter also features two independent valve taps that rotate 360°. This makes for easy maneuvering, even in the tightest aquarium cabinets! The 5 stackable, large capacity media baskets give aquarists the ability to customize filtration.
Overview
A product of Penn-Plax, manufacturer, and distributor of top pet supplies in the US, this aquarium filter offers an intuitive setup, 3 stage filtration, and industry-leading reliability. The cascade 700 canisters can handle up to 65 gallons efficiently, providing up to 185 gph of flow.
The Penn Plax canister filter allows you to combine the benefits of several types of media delivering powerful mechanical, chemical, and biological filtration for crystal clear water In aquatic environments.
When it comes to making the best canister filters, the Penn Plax models are worth mentioning, due to their rich features.
At a glance, the cascade canister consists of:
Flow rate control cut-off valves

Two independent directional 360" rotating valves taps

Extra-large capacity, stackable filter medium containers with lift-up handles

Easy alignment clamps, release vacuum suction

Sturdy tip-proof base (permanently mounted rubber feet)

Swimming pool-style hose clamps

Easy push-button self primer

Coarse sponge

Filter material included FREE with each canister filter.
Let's jump right into the detailed features of the CCF3UL cascade 700 canister filter.
Easy To Use
Even in the tightest of aquarium cabinets, the flow valve of the cascade line of the filter rotates 360 degrees. This makes for worry-free placement and easy maneuvering. The flow valves can easily be removed for canister maintenance while your hose intake and output remain at the aquarium. This enables you to easily take the system apart to clean it as needed.
Efficient Filtration System
Ever wanted to be able to customize your filter media according to your preference? The two extra-large media baskets of the cascade canister allow you to do just that and more. So you can add more media depending on your filtration needs and the density of fish stock.
You can use any combination of media including bio-floss, bio-sponges, activated carbon, and others to accomplish a wide array of aquarium filtration needs. The machine comes with a multi-stage filter that consists of three filtration stages to provide your fish tank with fresh water that is clean and crystal clear. It is mainly designed for aquariums that are 65 gallons in size, which is incredible.
Easy Priming
You can quickly and easily prime the filter with just a few presses of the easy button primer.
The cascade filter also comes with:
An air-tight seal to assure proper flow rate, while maintaining ultra-quiet operation.

Easy-lift clamps make it simple to release the vacuum and release the top for changing media or other maintenance.

Directional returns to help suspend waste matter so it can be taken in by the filter leaving nothing but clear, clear water.
What Else?
Other features include a spray bar, tubing, and directional spout for full customization and filter medium. With these, you're ready to start using the cascade filter today. The popular cobalt blue will look attractive next to your tank and the sturdy rubber-mounted tip-proof rubber base keeps the unit in place.
So there are lots of benefits and positives that come with using this cascade canister. In fact, the only negative is that the replaceable filter media can be expensive (you can actually make your own). Back to the positives, shall we?
The cascade canister is easy to install. It comes with necessary accessories to connect to your tank and begin filtering in approximately 30 minutes and see visible improvements in less than a day.
Frequently Asked Questions
1. Does this come with a tubing and installation manual?
Yes, it does. It comes with everything you need – filter media, hoses, clamps, suction cups, installation manual, and so on.
2. What is the difference between this unit and the 1000 and 1500 models?
The major difference is size.
3. How many media trays does this come with?
It has two media trays.
4. Does this come with a spray bar?
Yes, it does.
5. What is the product warranty?
Cascade canister filters come with a 3-year warranty and satisfaction guaranteed.
How Canister Filters Work
An external filter with tubes immersed in the water of the aquarium is a canister filter. A lift tube pulls the tap water. The water then flows through the filter chamber just outside of the tank. In the sealed canister, water flows through several filter media types.
The cleaned water is returned to the tank via a pump after filtering is performed within the canister chamber. The suction tube pulls an unclean water tank and provides the release tube with filtered water back to the tank. This leads to a continuous flow.
Filter Review of Penn Plax Cascade
The Penn Plax is a famous brand that has produced so many sensitive aquatic producers items. Their goods include user-friendly capabilities and good quality. A high-speed multi-stage external filter system is offered in the Penn-Plax series, which can be freshwater or saltwater aquariums ranging from 30 to 200 gallons.
For your convenience, I have given each member of the series a comprehensive description. The major concern is the size when you choose the proper filter for your aquarium. You might have a look at my Penn Plax Cascade Canister Aquarium Filter review if your first preference matches this product.
Fantastic features of Penn Plax Cascade Canister Aquarium Filter
Before that, I told you the canister Penn Plax is excellent for up-to-date users. This filter type is quite expensive and is a great combo in bigger tanks with inline warmers. But I can guarantee you that the filters of Penn Plax Cascade are of high quality. I'm going to concentrate on this review post on usability and helpful features.
Top-Notch Design
A state-of-the-art characteristic is distinctive, helpful, and allows easy movement, with flow valves movable by 360 degrees. Even though the aquarium cabinet is tiny, this choice makes placing the filter very simple.
A special kind of shaft allows easy flow adjustment of the low relief valve. During flux readjustment, several types of fish as well as floating aquatic plants cannot withstand high water flow. Penn Plax Cascade canister filters are used for several applications with an accurate flow control option.
Press Primer Button
The air inside the filter can sometimes be stuck, hampering the flow rate. Priming is the procedure through which water entry is permitted and trapped air removed. A push-button will allow you to start very quickly in Penn Plax Cascade Canister filters. With just a few pushes, you can release the trapped air.
The Media Basket for Large Capacity
You may utilize multiple filter kinds of media, individually or in a mixture, as per your demand. This offers another helpful function. Filtration is not exactly the same for all aquariums and may vary according to numerous factors.
Not always are the same circumstances and problems for everyone. Some aquariums are the major worry to remove particulate matter while other aquariums are challenged to eliminate poisonous gas. A flour pad is used in this filter unit to remove the particles, and a coarse sponge is used to prevent ammonia and nitrate by stimulating the development of bacteria.
The filter media can guarantee the quality of aquarium water as your final goal. The wider media channel enables more media to be used but also lowers the frequency of filter change.
Quiet Operation
Noisy aquarium filters are a typical aquarium user issue, and indeed it is upsetting! The constant repetitive sound might be irritating when the filter is loud. So it is a good idea to have a silent aquarium filter.
The filters from the Penn Plax Cascade Canister have a tip-proof base of rubber that holds your device silently in place. Airtight seals minimize the appearance of noises and provide quiet performance.
Filtration Efficiency
Effective three-stage purification provides clear, healthful water. Three filtration phases involve the use of biofoss, activate carbon, and bio-sponges as filter media as mechanical, chemical, and biological filtrations.
Cascade Cleaning Canister Filters
Penn Plax Cascade Canister filters feature bigger filter trays that aid in filter replacement for longer durations; nevertheless, the filter material must be cleaned and replaced periodically. Frequent substitution of filters encourages the accumulation of nitrate because trapped waste can be a source of nitrate production within a filter medium.
It takes about five minutes and is straightforward.
Strom disconnect.

Close valves for intake.

Separate the sleeves.

Remove the vacuum and remove the top by use of simple pinches.

Use filter media to remove.

Set intake media of the filter.

To make sure the priming is done, press the push button multiple times.

Switch on the filter

and connect the pipes.
Pros And Cons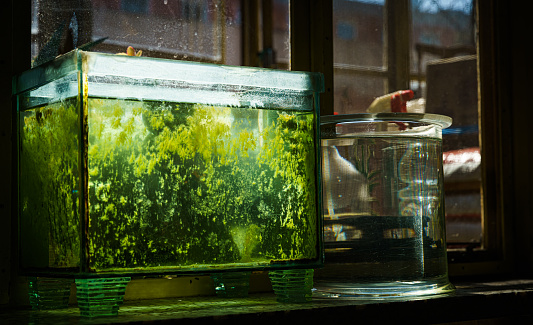 Pros
Used for both salt and freshwater aquariums.

Easy to install and easy to start.

Three-stage filtration with the greatest filth to filter out of directed return cover

A cobalt blue hue charming appearance
Cons
Sometimes the push-button primer might work incorrectly, so it's still smooth for certain people. Some customers experienced difficulties making it smooth again after changing the filter element

Energy is a little 
Cascade Filter Series Canister
For freshwater and marine environments, the brand Cascade offers excellent aquarium filters. It provides easy, strong 3-stage filtration and unmatched dependability in the industrial sector.
GPH for aquariums up to gallons recommended

Rotating valves with flow controls in the pool style

Push-button primers for quick and easy configuration

Big media carts may be tailored for various aquarists' requirements

For the maintenance of your tube,

intake, and output, flow valves may be simply removed
Canister Penn-Plax Cascade Filters
Filters are easy to install with all components useful to join your tank and filter in around 30 minutes as well as improve visibly in less than one day. A fast push-button opener makes start-ups simple and 2 independent 360-degree directional rotating valve taps ensure a worrying installation. Set-up and adjustment are easier with flow rate control valves and pool-style tuber closures. The robust rubber assembled rubber foundation retains the item.
The big filter trays, start-up media filtration, input/output tubing are included in each pumping. The big filter trays enable you to utilize more media and have longer times between substitutions. An airproof screen ensures an appropriate flow rate and keeps the operations extremely quiet. Directional returns assist to suspend waste, therefore leaving clear, clear water in the filter. To achieve a vast variety of aquarium filter demands use any combo of mediums such as bio-floss, bio-sponges, activated carbon, and more.
For your fresh or saltwater aquarium, Cascade Canister Filters from Penn Plax provide heavy-duty, multi-stage external filtration. With a Cascade 1200 Canister Filter, aquariums with flow levels of up to 150 gallons are effective. These filters take the benefits of various types of media that provide effective mechanical, chemical, or biological filtration in fresh or marine settings for crystal pure water.
These filters are easy to install and come with all the required attachments in order to connect to your tank and start filtering in about 30 minutes and improve in less than one day! A fast push-button primer facilitates start-up and makes placing worry-free with two separate rotatable 360-degree valve taps. Screw control valves and pool-style paddling clamps facilitate installation and adjustability. Near your tank, you can see the popular cobalt blue color, and the robust, rubber-proof base holds the unit in place. The big filter trays, beginning media filter, input/output tubing are included in each pump.
Penn-Plax Cascade 1000 Filtration System 
You undoubtedly question how important it is to know the correct system for purifying the aquarium. You believe you have fish as a pet, but you are completely new. It's necessary to know some fundamental things as a beginning. For example, you should know what types of fish you want with the correct size of the fish tank. Fish tanks are available in numerous sizes and designs and have a range of uses. You may also have easier maintenance and care if you select the correct size, not only will it assist with better fish arrangement.
You should also consider the filtration system, besides the varieties of fish and the fish tank. Many would overlook this element, but remember that the filtering of fish tanks is important, not only for the health of fish but also for life. If you select the improper filter carefreely, or if you don't care about the filtering system, the repercussions are most likely for your fish. Do not thus be selfish and place the well-being of your fish on your list of priorities.
First of all, a canister system from the Penn Plax Cascade 1000 comes in the shape of a container, which implies that an effective cleaning operation may be carried out. The pump and pressure of the filter are water intake and spray in order to restore water. The canisters type is the best compared to other filters because of the components contained. Don't be shocked if it is considered today to be the greatest water filter.
The second is the Penn-Plax Cascade 1000 filter, which may be used for large-sized fish tanks, for saltwater filters. Not just the whole cleaning process but also chemical and mechanical waste will be filtered out simultaneously.
Best in Over 75-Gallons: Penn Plax Cascade 1500
For aquariums above 75 gallons, this filter can manage aquariums with up to 200 gallons, Cascade 1500 filtration might be a suitable alternative. It is portable and has an appealing appearance to use anywhere. Apply a fast and easy push-button first on Cascade 1500 to let the user utilize this canister filter. It also has two separate 360 degrees rotary taps which make the water onto the fish tank more efficient. You can thus provide water more quickly to the aquarium.
Pros 
The water surface is extremely blended with the spray bar and completely silent.

A tonne of the room because of whatever purpose to constantly retain additional media.

Good value in comparison to Fluval or some other branch, cheap pricing.
Cons
The media panels are rather tiny and the sleeves need to be fitted occasionally.
One of the main mechanics of your aquarium is the fish tank filter. You make a horrible error if you cannot choose a good filter while jeopardizing your fish's health. The choice might be hard, mainly because the various size fish tanks have restricted alternatives. You should choose a decent filter intelligently, and this is a big step towards guaranteeing the safety of your aquarium and the attractiveness of your fish. Do not run the heavy work with your filters.
How Can I Ensure That My Filtration Is Sufficiently Strong?
The first indication that filtration is enough is that the tank will not dirty rapidly. If so, it will signal that your external filtration system finds it a problem and works too hard near the edge of inefficiency.
In order to achieve agitation and gathering for the ends and null stagnant dead patches, you may want to consider having two filters according to your loads. In this manner, with any water changes and of course, healthier, happy fish, you're going to have a slimmer and less waste aquarium. You may even purchase a larger box and run a medium-sized HOB too will not hurt.
What to Do When Your Filter Stops Working
It is irritating when one day you wake up to find that your filter doesn't function. More frustratingly, when you regularly cleaned it stopped operating. You know something's bad once you have cleaned, reinstalled, and turned on your bottle filter and your engine just pings and the filter does not take water in.
Whether all the connections of the shaft have been examined and no modifications have been taken such as changes in the filter location, it is first necessary to inspect the shaft of the impeller if anything is within.
How Should You Select to Filter Fish Tanks?
When picking an aquarium filtration system, you have several distinct choices. There are pros and cons for each type of filter and not all filters for one tank. You need not only know your tank specifications, but also your tank's people's requirements to make the proper decision. For the health of an aquarium there are three types of filters:
Mechanical

Molecular

Biological
Large tanks for up to 70 gallons, without plant life, may be beneficial for certain fish owners. This means that you will have two rather than one filter that is considerably higher in the total water flow than your tank needs.
Conclusion
Choosing a filter is a necessary step in aquarium ownership and there are a lot of great options that will keep your tank water fresh and healthy for a long time to come.
If you are a first-time aquarium owner, or you need to strike a balance between factors such as power, price, and ease of use, the Penn Plax Cascade canister aquarium filter is a good choice to get you started
When purchased online from an electronic store like Amazon, the product is 100% new, never used, nothing is broken, and everything works.
The aquarium filter is one of the most important accessories to keep fish healthy and happy. An Aquarium filter is sometimes needed, so make sure you pick the correct filter.
For planted aquariums as well as marine aquariums, canister filters are a great alternative. In groundwater aquariums, they are also dependable. However, filter canister type takes considerable configuration and upkeep knowledge.
So for newbies, it is seldom the appropriate pick. But, with the hefty expense, savvy aquariums choose it to be more efficient and reliable.